Five devastating human stories and a dark and moving portrait of Victorian London—the untold lives of the women killed by Jack the Ripper.

Polly, Annie, Elizabeth, Catherine and Mary-Jane are famous for the same thing, though they never met. They came from Fleet Street, Knightsbridge, Wolverhampton, Sweden, and Wales. They wrote ballads, ran coffee houses, lived on country estates, they breathed ink-dust from printing presses and escaped people-traffickers.

What they had in common was the year of their murders: 1888. The person responsible was never identified, but the character created by the press to fill that gap has become far more famous than any of these five women.

For more than a century, newspapers have been keen to tell us that "the Ripper" preyed on prostitutes. Not only is this untrue, as historian Hallie Rubenhold has discovered, it has prevented the real stories of these fascinating women from being told. Now, in this devastating narrative of five lives, Rubenhold finally sets the record straight, revealing a world not just of Dickens and Queen Victoria, but of poverty, homelessness and rampant misogyny. They died because they were in the wrong place at the wrong time—but their greatest misfortune was to be born a woman. 
My Rating: * * * * *
My Review:
This book is very well researched with the focus on the tragic lives of Jack the Rippers 5 victims. Each victims heartbreaking story is meticulously told. All I have ever heard is that the Rippers victims were prostitutes. These women were mothers, daughters, sisters and wives who's troubled lives lead them to their tragic end. I'm so glad they finally received the attention to their lives, and not just their horrific death by a madman who has received more than his share of stories. I highly recommend this book to anyone who has been fascinated by this hideous man and his victims.
Hallie Rubenhold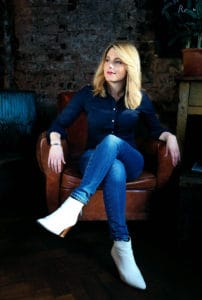 Hallie Rubenhold is a bestselling author, social historian, broadcaster and historical consultant for TV and film.
Her most recent book, The Five; The Untold Lives of The Women Killed by Jack the Ripper (Doubleday, 2019) is this year's winner of the Baillie Gifford Prize for Non-fiction. It is the first full length biography of the Ripper's victims. Disregarded by society for over 130 years, The Five pieces together their individual stories and overturns much of the mythology surrounding their lives, including the belief that all of the women were involved in 'prostitution'. The book became a Sunday Times Bestseller and has been optioned as a drama series by Mainstreet Pictures.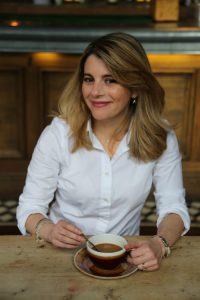 In 2005, Hallie published The Covent Garden Ladies, which brought to public attention the true story of the Harris's List of Covent Garden Ladies. Since its publication, her history of this notorious guidebook to Georgian London's prostitutes, along with her edited compendium of The Harris List of Covent Garden Ladies has succeeded in capturing the imagination of millions. Hallie's work has been the subject of three television programmes, including the hit drama series, Harlots (ITV Encore, Amazon and Hulu). In 2006, BBC4 broadcast The Harlots Handbook, a documentary based on Hallie's book which she presented.
Her equally celebrated second book, Lady Worsley's Whim (entitled The Lady in Red in the US) about the 18th century's most infamous adultery trial became BBC Radio 4's Book of the Week in November 2008. In August 2015, it appeared as a 90 minute drama for BBC2 entitled The Scandalous Lady W, starring Natalie Dormer and Shaun Evans.
Hallie is also the author of a series of novels set during the period of the French Revolution. The first of these, Mistress of My Fate was published in 2011 (2013 in the US). The second, The French Lesson was published in the UK in April, 2016.
In addition to writing books, articles and reviews, Hallie regularly appears on TV as an expert contributor to documentaries. She also acts as a historical consultant for period dramas, most notably for Harlots (Hulu/Amazon) and The Scandalous Lady W (BBC2), as well the BBC1 series, Jonathan Strange and Mr Norrell and the award winning Channel 4 series, City of Vice.
Hallie has a passion for telling a great historical tale and has a nose for unearthing previously unknown stories from little-known sources. She loves challenging our preconceived notions about our ancestors lives and revels in history's surprising, unpleasant and gritty truths. Her extensive academic experience extends to research, teaching, lecturing and curatorial work. In the past she has been employed as a curator for the National Portrait Gallery, a university lecturer and a commercial art dealer. In 2014 she curated an exhibition on women's reputations in the Georgian era for No.1 Royal Crescent in Bath and has been involved with several projects at the Foundling Museum in London.
Hallie received her B.A. in History from the University of Massachusetts, Amherst and an M.A. in British History and History of Art from the University of Leeds. Remaining at Leeds, she embarked on her studies for a PhD and later completed her thesis on the subject of marriage and child-rearing in the eighteenth century.
She lives with her husband in London.